Pins
SPRING PINS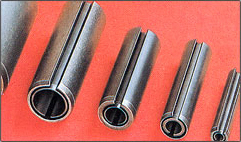 Feature

The spring pin means the pin having the function of spring that is called roll pin or self-lock pin. In general, the spring pin is made through this process: a steel band is molded into a cylinder-shape and then, gaps are given to it in the vertical direction, which is inserted into a hole whose diameter is a little smaller than the outer diameter of the pin, By doing this, inner pressure works around the hole, which prevents the pin from separating. The steel band should be heat-treated so it gets to have sufficient strength against the shear force, Compared with the parallel pin, its inside is empty so it is light. The end (one or both) of the pin is rounded for easy insertion into the hole.
Usage

substitution of connection by split pin, rivet or screw, and mostly for stopa pin of bolt nut, locking pin and clamping pin.
Criteria for choosing spring pin materials

| KS (Korea) Standard | JIS (Japan) Standard | SAE (USA) Standard |
| --- | --- | --- |
| SPS 5 ~ 5A | SUP 9 ~ 9A | 5155 ~ 5160 |
| SPS 7 | SUP 11 ~ 11A | 51B60 |
| SPS B | SUP 12 | 9254 |

Besides, SPS 6 kinds (SUP 10) and 50CR V4 of DIN are used
Any other material than described above can be used for special purposes
You are recommended to discuss with the engineers of Daewon Spring for the design and the material of springs.
Specification

Records of Specification in Ordering Spring Pin
Classification
Special Requirements
Remarks
Material in use
Choose the material based on the manufacturer's
standards unless specified otherwise
Size of the hole for
insertion (D)
mm
Outer diameter of
spring pin (di)
mm
Inner diameter of
spring pin (d2)
mm
Length of
spring pin
mm
Rounding for both ends
of spring pin
Record whether one or both are rounded
Surface treatment
Treatment with rust preventive oil or separate
surface treatment is possible upon request
Other specifications
applicable
DIN 1481, 7346
Classify for general or load purpose





Standard Requirements A. Load (DIN 1481 Requirement)
Pin Hole Size
10
12
13
14
16
18
20
21
25
28
30
32
35
38
40
45
50
End
Facing
2
2
2
2
2
2
3
3
3
3
3
3
3
4
4
4
4
External
Diameter
(min)
8.5
10.5
12
14.5
16.5
18.5
20.5
21.5
25.5
28.5
30.5
32.5
35.5
38.5
40.5
45.5
50.5
External
Diameter
(max)
8.8
10.8
12.8
14.8
16.8
18.9
20.9
21.9
25.9
28.9
30.9
32.9
35.9
38.9
40.9
45.9
50.9
Internal
Diameter
(d2)
6.5
7.5
8.5
8.5
10.5
11.5
12.5
13.5
15.5
17.5
18.5
20.5
21.5
23.5
25.5
28.5
31.5
Thickness
(s)
2.0
2.5
2.5
3.0
3.0
3.5
4.0
4.0
5.0
5.5
6.0
6.0
7.0
7.5
7.5
8.5
9.5
Length
Customizable from 100mm to 200mm by 2mm

Special sizes of spring pin can be made upon a customer's request

B. General Light Load (DIN 7346 Requirement)
Pin Hole Size
10
12
13
14
16
18
20
21
25
28
30
32
35
38
40
45
50
End
Facing
2
2
2
2
2
2
3
3
3
3
3
3
3
4
4
4
4
External
Diameter
(min)
10.5
11.5
12.5
13.5
14.5
16.5
18.5
20.5
21.5
23.5
25.5
28.5
30.5
35.5
40.5
45.5
50.5
External
Diameter
(max)
10.8
11.8
12.8
13.8
14.8
16.9
18.9
20.9
21.9
23.9
25.9
28.9
30.9
35.9
40.9
45.9
50.9
Internal
Diameter
(d2)
8.5
9.5
10.5
11.5
11.5
13.5
15.5
16.5
17.5
19.5
21.5
23.5
25.5
28.5
32.5
37.5
40.5
Thickness
(s)
1.0
1.0
1.0
1.25
1.5
1.5
1.75
2.0
2.0
2.0
2.0
2.5
2.5
3.5
4.0
4.0
5.0
Length
Customizable from 100mm to 200mm by 2mm

Special sizes of spring pin can be made upon a customer's request