HotWound
HOT WOUND COIL SPRING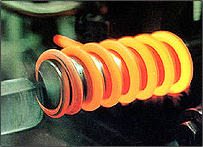 Feature

Hot Wound Coil Spring uses materials with 10mm 90mm diameter, In general, the shape of the materials is a round section, but for special purposes, there are round sectional taper spring which has a consecutively changing diameter and is used for suspension of autos recently, square sectional spring, and nonlinear sectional spring.
Coiling on the cylinder-shape is most common, but for special purposes, there are ping tail end spring in which the diameter of the left part coil is minimized, cylinder-shaped spring, cone-shaped spring, and doubleheaded drum type spring.
Usage

For autos, railroad vehicles, construction vehicles, industrial equipment, control valves, pipe hangers, dustproof device, etc.
Hot coil spring materials for domestic use

| KS Standard (Korea) | JIS Standard (Japan) | SAE Standard (USA) |
| --- | --- | --- |
| SPS 5 ~ 5A | SUP 9 ~ 9A | 5155 ~ 5160 |
| SPS 7 | SUP 11 ~ 11A | 51B60 |
| SPS B | SUP 12 | 9254 |

Besides, SPS 6 kinds (SUP 10) and 50CR V4 of DIN are used
Any other material than described above can be used for special purposes
You are recommended to discuss with the engineers of Daewon Spring for the design and the material of springs.
Specification

Classification
Special Requirements
Remarks
Material in use
Choose the material based on the manufacturer's
standards unless specified otherwise
Diameter of material (d)
mm
Mean diameter of coil (Dm)
mm
Select either the outer diameter or
the inner diameter for management of tolerance
Outer diameter of coil (Do)
mm
Tolerance management for the outer diameter should be done,
depending on the conditions for use
Inner diameter of coil(Di)
mm
Tolerance management for the outer diameter should be done,
depending on the conditions for use
No, of active coils (turns) (Na)
Vol
Changeable subject to the
manufacturer's design criteria
Total no, of coils (turns)
Vol
Changeable subject to the
manufacturer's design criteria
Free height (Fh)
mm
Management of free height is not necessary
in case the spring is for load management
Rolling direction
Right Side
The inner spring is in the left direction
in case of combination spring
Designation of
spring features
Height
Load
The manufacturer's reference value is used for management
in case there is no designated height and load
mm
kgf
Spring constant
kgf/mm
Shape of
coil ends
Taper
The shape of the loop should be recorded
Spring hardness
after heat treatment
HB388~461
The manufacturer's standards
Surface management
after molding
Shot Peening
Surface
treatment
Black Plating
Treatment with rust preventive oil is possible upon request
Use or conditions
for use
Record of Use
Condition
Indicate use, temperature in use, humidity, and environment for use,
Other specifications
applicable
KS B2402, KS B2403